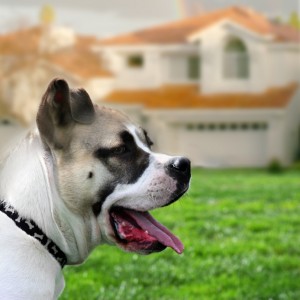 While almost 71 million Americans own a pet, when you're viewing potential homes to buy, the last thing you want to see is a barking dog or finicky cat. Many homebuyers consider pets to be smelly, noisy and damaging, so it's important to make sure that a pet isn't the reason you don't sell your home. If you're a loyal pet owner and a home seller, use the following tips to create the illusion of a pet-free home.
The easiest thing to do is relocate your pet to a friend or family member's home, or consider pet daycare when showing your home.
For those who choose to keep their pets inside the house during a home viewing, tuck them away in a carrier or kennel with a note attached warning buyers not to disturb them. The last thing you want is somebody sticking their hand inside and getting bit or scratched—especially a child who has come along for the look. Removing signs that you have a pet is simply smart practice and some easy steps can help. Make sure you clean the litter box daily and keep them out of sight. Nothing turns off buyers faster than opening the door to the laundry room and being greeted by a smelly litter box.
Also, keep all food and water dishes somewhere out of the way, or put them away after the pet eats.
Don't forget about odors and stains. A good investment is hiring professionals to remove all pet stains on the carpet as buyers will spot them and quickly form unfavorable opinions about the rest of the home.
I can always recommend a good local cleaning/ carpet cleaning company. Give me a call and I'll be happy to help!
Christine Cleek
ABR, CRS, SFR, E-Pro
Broker, Owner
Rising Star Real Estate
850-217-0990
2016 Voted in the TOP 100 MOST INFLUENTIAL
REAL ESTATE AGENTS IN FLORIDA
2015 Trulia TOP RANKED Real Estate Agent
Based on Client Reviews & Ratings!
Featured in January 2014 FLORIDA REALTOR MAGAZINE
This prestigious award honors excellence among the top 1% of
agents in the country based on 2014 sales and client reviews.
Visit Rising Star Real Estate on FACEBOOK!