Santa Rosa Beach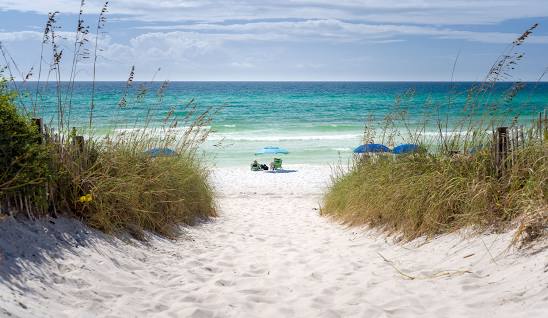 Santa Rosa Beach Information
The community of Santa Rosa Beach offers luxury beach houses, upscale dining, and the unique artist colony known as Gulf Place. Santa Rosa Beach provides several entrances to Point Washington State Forest, a 15,000-acre preserve with more than 10 natural communities.
In fact, all of South Walton is renowned for natural scenic beauty, turquoise waters and sugar sand beaches, including one of Travel + Leisure magazine's "Best Beaches on Earth" for families.
Tourism
South Walton provides visitors with a relaxing escape: an upscale, yet casual, place to unwind and rejuvenate. Charm and scenic beauty define our stretch of Northwest Florida's Gulf Coast, and our white sand beaches and turquoise waters offer a natural setting, where visitors feel comfortable. We deliver an unforgettable experience, filled with lasting memories.
Weather Information Santa Rosa Beach
Located on the Emerald Coast of Florida, Santa Rosa Beach has a subtropical climate with hot summers and mild winters. Temperatures usually range between the mid-70s to the mid-80s during the summer months and rarely dip below 45 degrees Fahrenheit in winter. The area is known for its warm temperatures throughout the year and low levels of humidity. Summers are often sunny and bright, while winters tend to be more overcast. As expected of a coastal region, it does receive a significant amount of precipitation throughout the year. The area experiences an average annual rainfall of 53 inches, with most of it falling during the summer months from June through September.
Santa Rosa Beach Homes for Sale