Navarre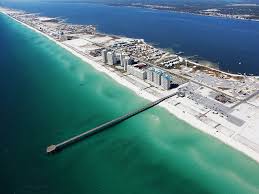 Navarre is a community in Santa Rosa County in the Northwest Florida Panhandle. Navarre is comprised of mostly U.S. military, defense contractors, nature enthusiasts and beach guests who stay along the 12 miles of pristine white beach shoreline. The community is roughly centered on the junction of U.S. 98 and State Road 87. Navarre is known for its untarnished natural beauty, boutique shopping, swimming in the emerald colored water, having a picnic on the beach or in the county park and riding or jogging on the several scenic bike paths.
Tourism has increased in the Navarre area, leading the community to declare itself "Florida's Best Kept Secret." A boardwalk, a park (with water playground), a duck pond, and butterfly house are located near the bridge to Navarre Beach, which is immediately across Santa Rosa Sound to the south. Surfing, jet skiing, paddle boarding, fishing, beach volleyball, bike riding, jogging/walking, bird watching and scenic trails are popular among the residents.
Education in Navarre is administrated by the Santa Rosa County District School System. The schools that serve the Navarre community are:
Navarre High School (Grades 9-12)
Holley Navarre Middle School (Grades 6-8)
Holley Navarre Intermediate School (Grades 3-5)
Holley Navarre Primary School (Grades K-2)
Woodlawn Beach Middle School (Grades 6-8)
West Navarre Primary School (Grades K-2)
West Navarre Intermediate School (Grades 3-5)
Weather Information Navarre
Navarre has a very warm humid subtropical climate. While we do experience 4 seasons here, the Fall/Spring/Winter months are very mild. The Weather is typically hot and very humid, from late May to mid-September. Fall months, from mid-September to early December, are generally warm and less humid. The Winter months are very short and mild, from mid-December to late February and Spring months are warm, from late February to late May.
Navarre and surrounding areas are very wet, averaging 69 inches of rain each year, more than any area in Florida. The wettest season is summer, and the driest autumn. Snow and freezing rain are very rare. Freezing rain occurs about once every 5–10 years. Snow occurs about once every 10–15 years.