30A "Florida's Most Charming Highway"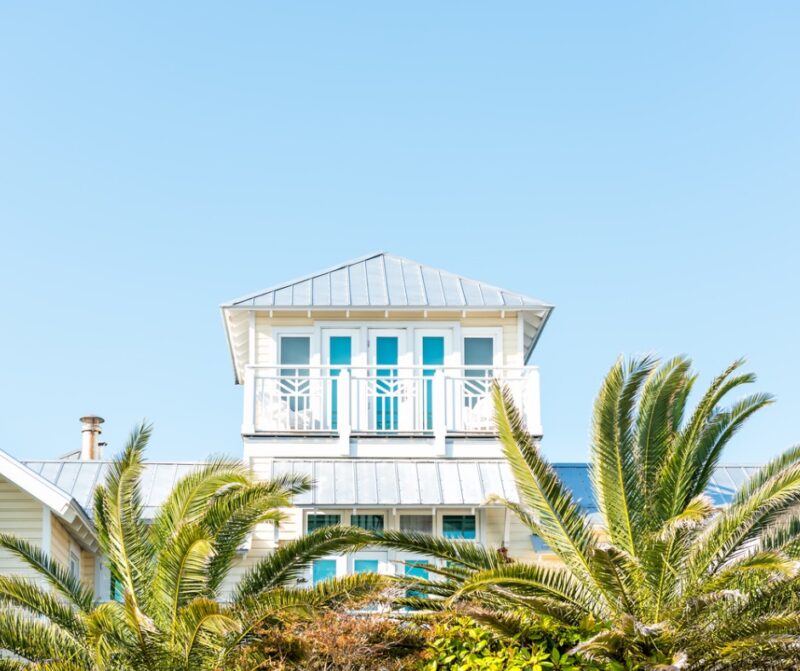 30A "Florida's Most Charming Highway" is a highway that stretches along 28 coastal miles of the Florida Panhandle between Miramar Beach and Panama City Beach. It's located in Walton County, so this area is also often known as South Walton. The entire stretch is filled with charming individual beach communities that each have their own unique personalities, some of which have naturally formed over many years and some of which are planned communities developed in recent decades. Wherever you are on 30A, you're guaranteed to find beautiful beaches with excellent views of the crystal clear Gulf waters.

Rosemary Beach is an unincorporated planned community in Walton County, Florida, United States on a beach side road, CR 30A, on the Gulf Coast. Rosemary Beach is developed on land originally part of the older Inlet Beach neighborhood.
Seaside is a small resort community in northwest Florida, on the Gulf of Mexico. It's known for its late-20th-century New Urbanist design, as well as pastel-colored houses featuring porches and white picket fences. A series of striking pavilions mark the access points to the long sandy beach. Shops and restaurants cluster in the town center. Just west, Grayton Beach State Park has trails and a coastal dune lake.
In an area full of unique communities, Alys Beach stands out as the most unique and interesting of all. It's a small village with striking architecture modeled after the Mediterranean towns of Greece and Caribbean villages in Bermuda. It's designed to give visitors an escape from ordinary life in a peaceful and serene environment that feels like its own little world. A stroll through the elegant streets and courtyards while you browse the shops and restaurants of Alys Beach is something you must do on any 30A visit. Its picturesque and romantic vistas make it a one of a kind wedding venue. Some of the areas most exciting events also take place here including Digital Graffiti, an art exhibition unlike any other.
WaterColor is exactly as colorful and adorable as the name suggests. Its incredibly walkable streets are lined with trees and filled with charming family homes, picturesque parks, and quaint local restaurants. It's one of the best locations along 30A, bordering Grayton Beach and Seaside. If you stay here, you get easy access to Grayton Beach State Park and all of the amenities of Seaside as well, without quite as much of the traffic. The community is anchored by the beautiful WaterColor Inn & Resort, which borders most of the beachfront here. WaterColor is one of the best places on 30A for families with young kids to stay. It's convenient and designed to easily explore by foot or bike.
WaterSound is a 1,400 acre private community located on the south side of scenic 30A. It's loaded with amenities such as community pools, green spaces, parks, wooden boardwalks, trails and more. The architecture found in WaterSound has an eastern seaboard town feel and is made up of cottages and condos. WaterSound is located next to the Hub 30A which is a great place to grab a bite to eat and watch the big football game. If you're looking for an "all-inclusive" vacation type feel where you don't really have to leave the property, then WaterSound just might be for you.
Blue Mountain Beach is aptly named for its towering dunes (the highest elevation on 30A) and the beautiful blue lupine flowers that grow there. All of the beachfronts in South Walton are beautiful, but Blue Mountain Beach certainly seems to take it to the next level. It also contains two beautiful coastal dune lakes, Draper Lake and Big Red Fish Lake, and it neighbors Washington State Forest, so there are many ways to enjoy Florida's natural seaside when you visit. As one of the least populated areas along 30A, it's also a quiet place to take a stroll. But there's lots of great places to eat and shop in Blue Mountain Beach as well, so you never feel like you're too disconnected.